Zero-Emission-Shipping applications require high power profiles for both propulsion and hotel load and absolute reliability, availability and safety. Hence, the right fit with our PemGen portfolio strategy. To tune our solutions for the maritime industry we accommodate a Maritime Application team that safeguards compliancy to IMO rules and class rules as applicable. Our Application Support Package helps you adopt our PemGen Maritime Fuel Cell Power Installations in a professional manner.
Maritime & Ports Application Opportunities
Within the Ports & Maritime industry fuel cell applications are virtually endless and in many of these applications the use of hydrogen as an energy vector and fuel cells as a means of power conversion would qualify as the best zero-emission alternative: 
Ferries; 
Cruise ships (power at port and limited range);
Yachting; 
Dredging; 
Power barges; 
Fishing barges; 
Inland navigation;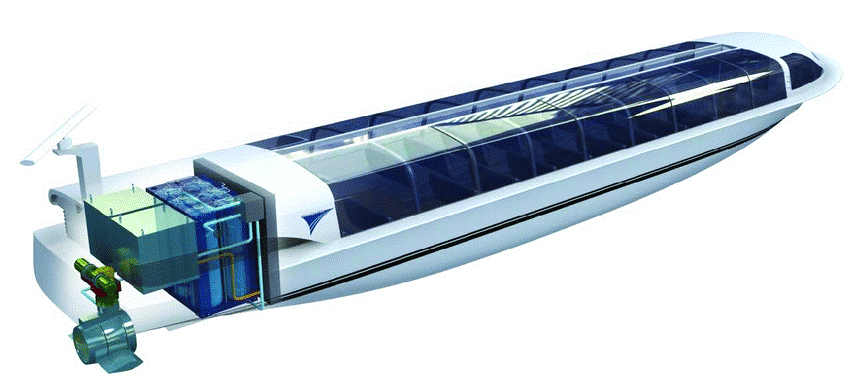 Let's Navigate towards Zero-Emission-Shipping
Where land based mobility alternatives suffer strong competition from conventional battery solutions, the maritime industry requires a combination of long endurance at sea and high power requirements. For such applications zero-emission enablers with a far better power density are required. 
The combination of hydrogen as an energy vector and PEM fuel cells as a means of power conversion enables the transition towards zero-emission shipping without compromising too significantly on range, endurance at sea, vessel turn-around times and weather sensitivity.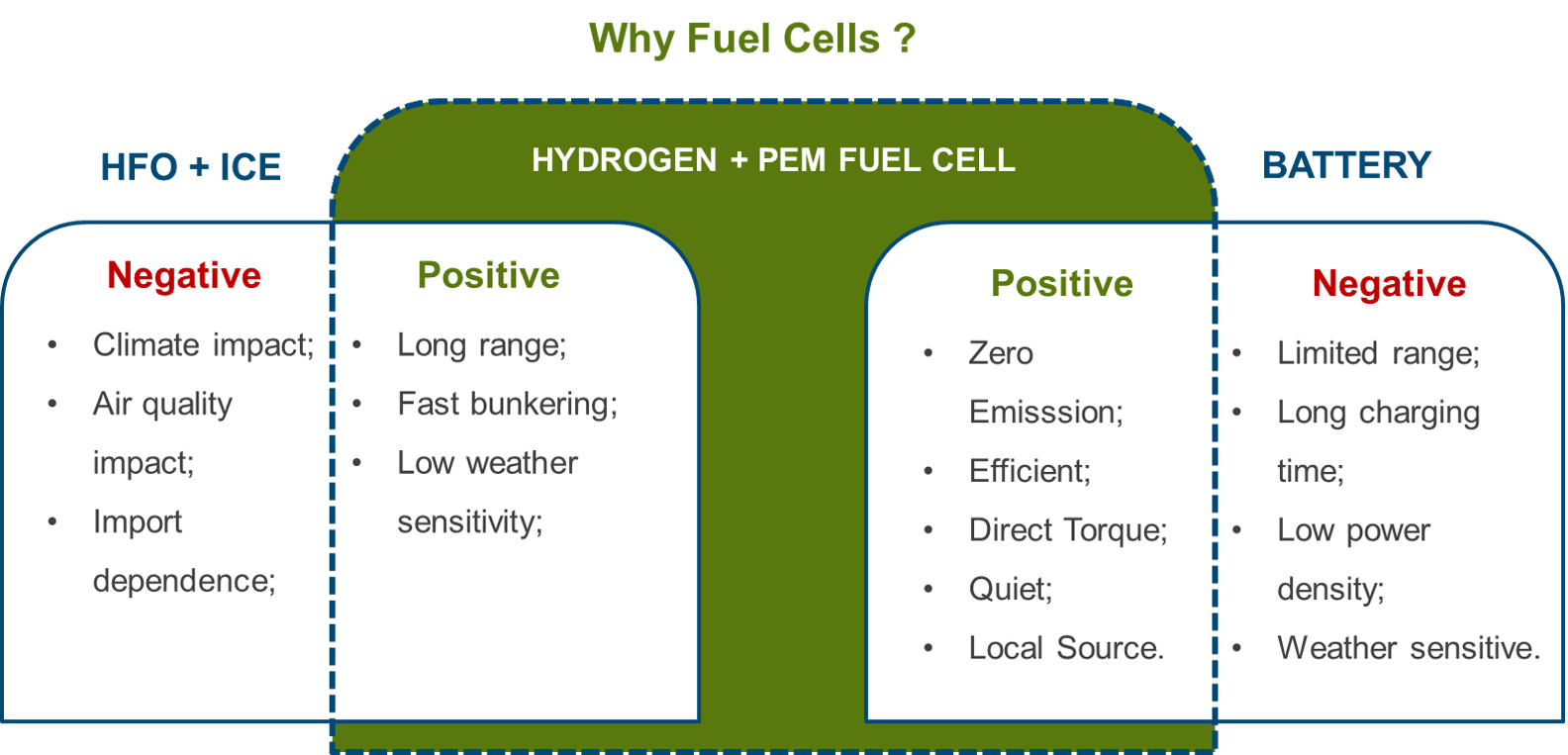 The larger picture
The introduction of fuel cell power installations in the maritime industry affect the whole energy system; affecting all flows and transformations. We help you take the helicopter view and understand the forthcoming changes needed to address your supply chain and operations to accommodate for such change. We also guide you through the different alternative arrangements in a way you can comprehend how this much needed energy transition will affect your business operations.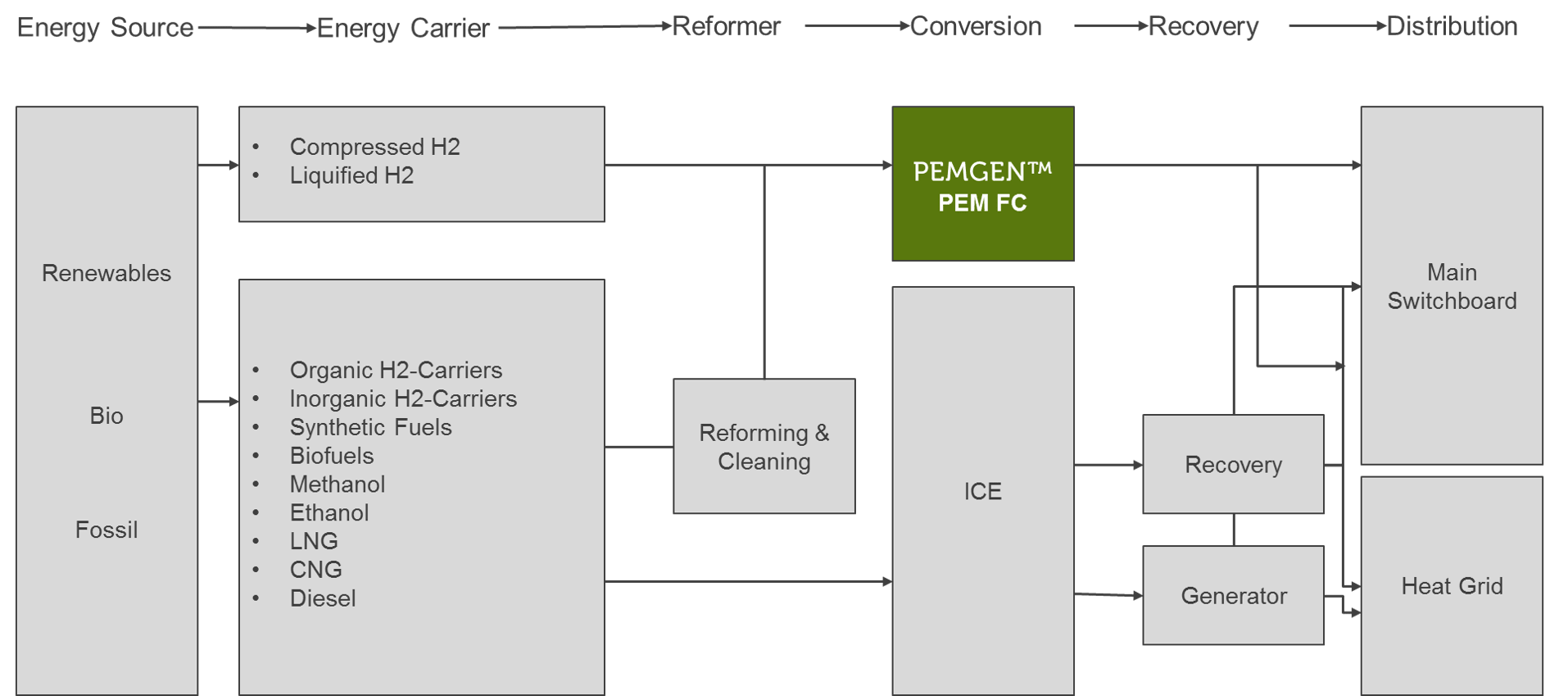 PemGen Installations in context
Our signature PemGen Maritime Fuel Cell Power Installations are at the heart of your Zero-Emission Application. Nonetheless, they are only part of a much larger energy transition puzzle. We support you in identifying the right interfaces between the different sub-systems and attributing the right safety goals to each of the building blocks. 
Application Support & Compliance
Fundamental to adopting fuel cell technology in the maritime industry is to safeguard compliancy to the strict framework of IMO rules and addtional rules administered by Class Societies and flag states. At Nedstack we do not only observe the development of these standards, but try to actively involve in taking away such roadblocks to adopting much needed innovation. We help you understand the framework of applicable rules and - in absence of the IGF code Chapter E (IMO hydrogen rules) - help you along the way throught the alternative design process. 

Our Maritime Application Support Package
Our Maritime Application Support Package provides for - amongst others - the following services: 
Feasibility assessment of fuel cell transition possibilities; 
Sizing support of PemGen fuel cell power installation;
Single line diagram review and recommendations; 
General Arragnement  review and recommendations; 
Producing Mass & Energy balances and forthcoming sizing recommendations; 
Review interfacing system specifications; 
Provide recommended safety concepts; 
Participation in Risk Based Design studies; 
Power Management system integration support;