Fuel cell stacks are electro-chemical reactors that require a tailored balance of plant to provide the media that meets their process conditions, to properly condition the output and to actively control the state of health and the power performance. At Nedstack we have developed a portfolio of integrated fuel cell power systems in which fuel cell stacks and their balance of plant have been developed in harmony and in light of our signature intended use; mission critical, high power applications. This portfolio we have baptized PemGen.
Fuel cell power systems
Fuel cell power systems are holistic power systems that combine all relevant sub systems around the fuel cell to enable the power conversion function to deliver the request power profile to a clients application. It's of paramount importance that the fuel cell stacks and the balance of plant are in harmony and that the reaction conditions required by the stack are continuously provided and safeguarded by the plant around it. 
At Nedstack we observe the IEC 62282-3 standards as a baseline requirement set and as a guideline for system decomposition. To understand the sub-systems that constitute the larger fuel cell power system have a look at the decomposition below: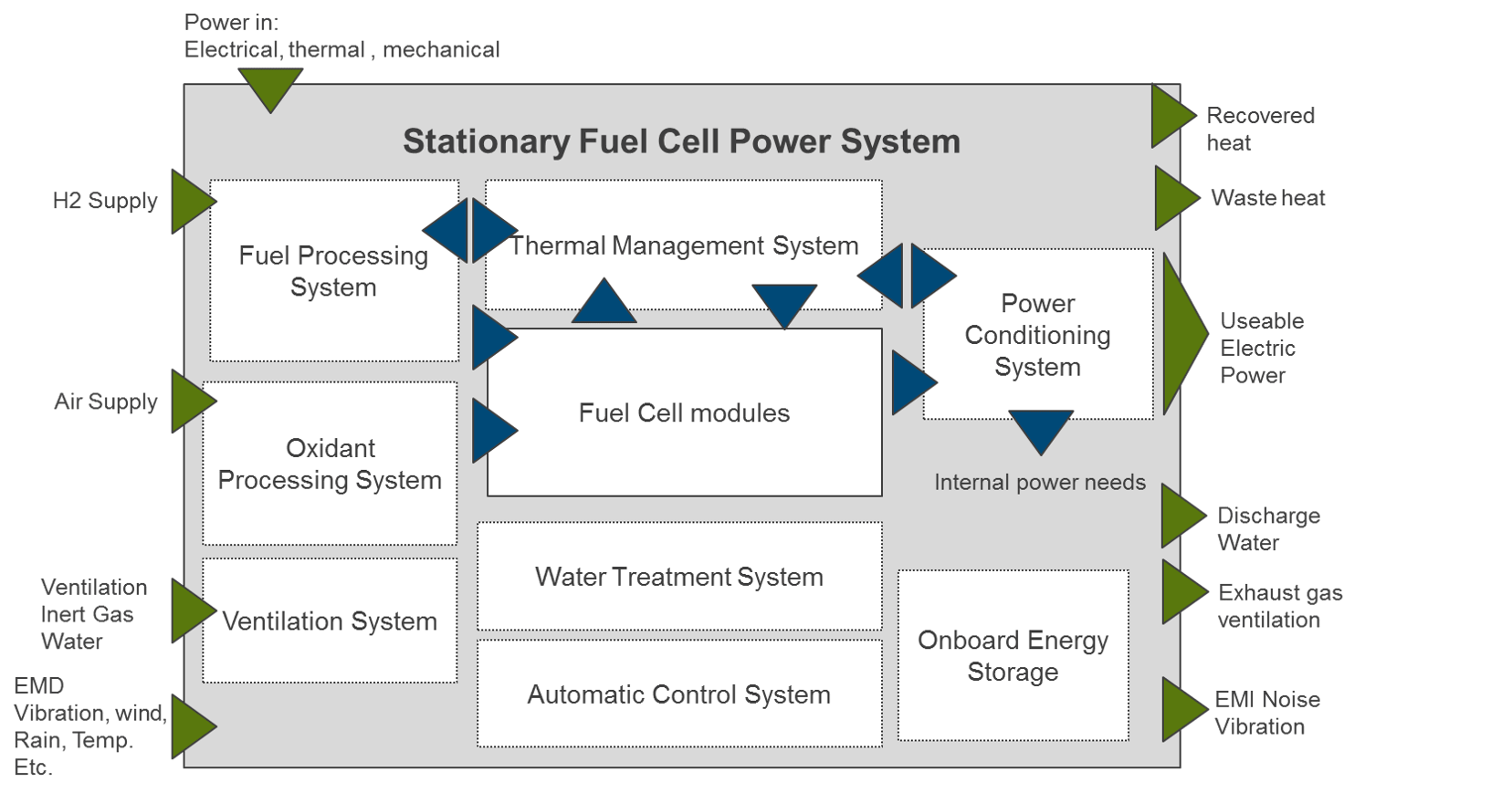 The PemGen Factor
At Nedstack we have developed a portfolio of power systems around our extended long life (XXL) PEM-FCS stack platform. This portfolio of Nedstack proprietary designed fuel cell power systems is labelled PemGen and it observes our signature engineering trade offs where design and supply chain decisions are rationalized over the lowest possible levelized cost of energy (LCOE) wihtin boundaries of absolute reliability, availability and safety. 
Eventough the PemGen portfolio assumes a standardized and mature set of power plant designs it is made available with the freedom to tune to customer requirements (configure to order). Get in touch with Nedstack to share your intended use and forthcoming configuration requirements. 
PemGen is a Nedstack European registered trademark. 

PemGen Fuel Cell Power Systems understood
Nedstack PemGen solutions are systems-of-systems. Within the holistic PemGen Fuel Cell solutions the following sub-systems can be identified: 
PEM Fuel Cell sub-system
Oxidant Management sub-system
Hydrogen Fuel Management sub-system
Thermal Management sub-system
Power Conditioning sub-system
Monitoring & Control sub-system
Safety system 
Enclosure (chassis / canopy) 
Ancillary sub-system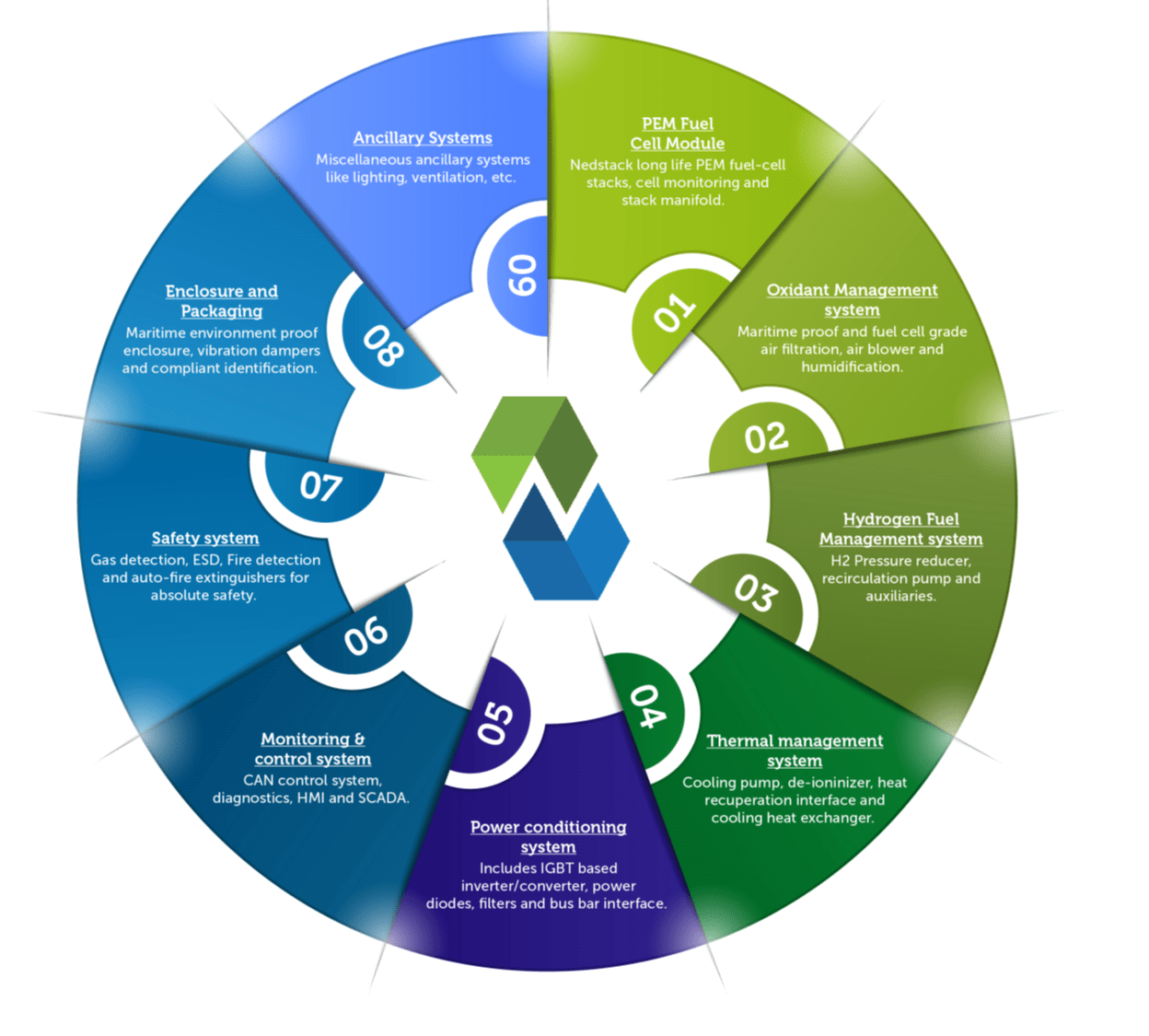 Plant Realization Process
Nedstack coordinates a well developed supply chain of matured co-makers with whom we are capable of managing the delivery of your Fuel Cell Power Plant on a turn-key basis. Depending on geography and intended use as well as on a pricing and availablity basis Nedstack will qualify the best relevant co-makers for your power plant. We are however open to work with client prefered co-makers or third party EPC-contractors should project or application requirements so require. 
For clients that desire to self-built PemGen solutions on a by-license basis we offer a technology licensing option and a complementing package of engineering services for technology transfer and joint project management.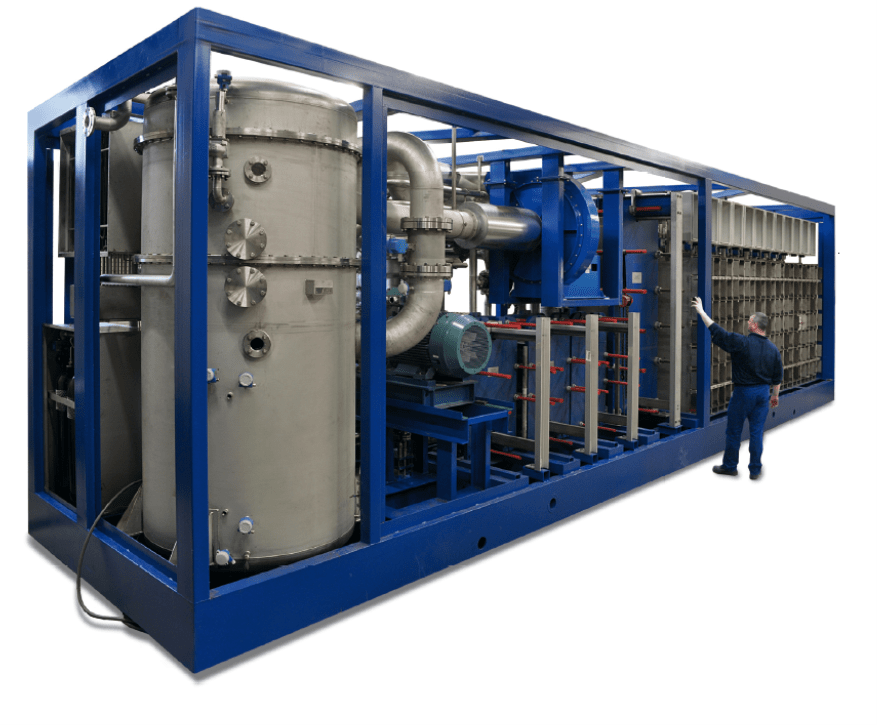 Transport & Delivery
Nedstack PemGen solutions are being FAT-tested at Nedstack's site prior to shipment to their final destinations. You are welcome to witness your FAT process at Nedstack and bless your plant with a 'bon-voyage' upon its' departure. PemGen solutions are typically transported as project cargo by either Nedstack logistic partners or a client agent. By their containerized built, larger PemGen systems are fairly friendly to transportation processes. 
Compliancy
The PemGen compliancy strategy is defined by observing both universal fuel cell system standards (IEC 62282-3) as well as application relevant standards. In previous projects Nedstack has succesfully tested and validated its' PemGen solutions for maritime rules (Class Approvals), automotive commercial vehicle regulations (UN-ECE and GB/T) as well as land-based de-jure standards (EC directives). 
Global harmonization of standards and regulations is still an ongoing process and by extension for some local projects or new market applications other regulations or standards have to be observed. Such regulatory landscaping and standard-impact assessment is part of our feasibility study and we normally do in joint effort with our clients.